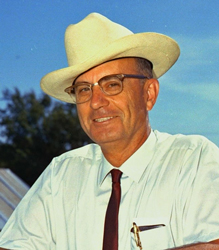 Farm broadcasting pioneer and former NAFB president Russell Pierson passed away last week at the age of 103 and he was remembered at an Oklahoma City funeral service Monday by many friends and fans.
"He hired me in 1974 and trained me to be a farm broadcaster," said another former NAFB president, Ken Root, who delivered a eulogy at the service. "We had a lot of good times. He was a mentor to me and to many."
Russell became a member of the National Association of Radio and Television Farm Broadcasters in 1959 when he was hired to head the Farm and Ranch Broadcasting Service for WKY Radio and Television in Oklahoma City. He served as president of what became NAFB in 1973 and inducted into the Hall of Fame in 1992.
Russell always ended his broadcasts over the years with a poem, and he saved one parting verse for the end of his earthly life.
"Never let a single day go by
Without a kind gesture or an act.
And always tell those that you love,
Your affection for them is fact.
For our time on this earth is short,
Compared to what lay ahead.
And with Christ accompanying our journey,
That next step is absent dread.
So to all I leave behind,
And friendships I've held dear.
May Peace be with you until we meet again,
And may your days be filled with cheer."
In lieu of flowers an OSU Agronomy Student Scholarship, through the College of Agriculture, is being established in Russell Pierson's name and honor. You can send donations Oklahoma State University Scholarship Foundation in Memory of Russell Pierson, PO Box 1749, Stillwater OK 74076.
Russell touched the lives of many NAFBers over his many years – please feel free to share your memories in comments. Rest in peace, Russell, good and faithful servant.