The director of The Great American Wheat Harvest documentary is back in action with a new project called Thirsty Land.

Will there be enough water to survive? "Thirsty Land" is an exciting new documentary that tells the story of drought, its impact on agriculture, communities and the global food supply.
"The story of drought needs to be told! Our global food supply and our very survival of humans depend on clean, abundant fresh water. I want to make the audience think about it every time they take a drink of water, enjoy a shower or water their lawn," says Weaver.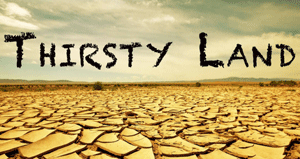 Conrad is working with the Robert B. Daugherty Water For Food Institute (DWFI) at the University of Nebraska in partnering for the production of "Thirsty Land" film. DWFI, along with the Institute of Agriculture and Natural Resources (IANR) at the University of Nebraska-Lincoln, have provided startup sponsorship funds for the project to move ahead.

"We are very pleased to participate in this important documentary about the challenges of drought and climate change," said Roberto Lenton, founding executive director of the Water for Food Institute. "It supports our mission by educating people about the threats, as well as the opportunities, to achieving water and food security for generations to come."

Learn more about Thirsty Land and how you can support the project in this week's program: Thirsty Land Documentary