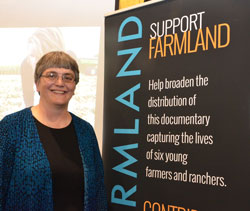 The U.S. Farmers and Ranchers Alliance (USFRA) was pleased to announced at the 2015 Commodity Classic this week that the feature-length documentary FARMLAND will be available on DVD beginning Tuesday, March 3rd, at Walmart and Walmart.com.
"It's been available on iTunes and other ways to download or stream it but now you can physically own and have your own DVD," said USFRA board member Lisa Lunz of Nebraska during the Classic trade show on Thursday.
Lisa says the film, which was supported by USFRA to help educate the public about farming and ranching, is proving to be a great investment for the agriculture industry. "It's a tool to start a conversation," she said. "As producers we need to have those conversations."
Plans are to get the film into the classroom through the "I am FARMLAND" effort. "They're developing a curriculum, a 44 minute version, so we can tell the story about producers in schools," said Lisa. She encourages individual producers who would like to help make that happen to go to www.IamFARMLAND.com and make a donation.
Listen to my interview with Lisa here: Interview with Lisa Lunz, USFRA board member