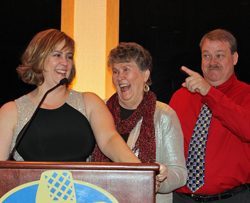 Janet Adkison, RFD-TV, ended her year as president of the National Association of Farm Broadcasting Friday night surrounded by family and friends.
"The last year has been just spectacular," said Janet. "We've had a lot of fun, there's been highs and lows, but that just goes with the territory."
Janet says she was pleased to be part of launching the NAFB media planner this year. "All of our NAFB member stations, member networks – whether it's TV or radio – are featured on this media planner," she said. "We hope more people will check it out and use it."
In addition, Janet says NAFB has grown its student membership in recent years. "It's gone from being in the single digits to being about 70 students now," she said.
Listen to Janet's end of the year interview with Taylor Truckey here: Interview with Janet Adkison, outgoing NAFB president