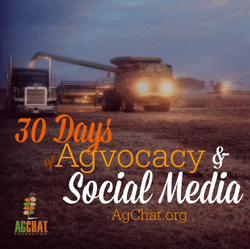 Speaking of the AgChat Foundation . . .
Thanks to a heads up from Charleston Orwig, I see that the AgChat Foundation has started their first "30 Days" series. This is inspired by a series started by Holly Spangler of Farm Progress.

For our first series, we'll be talking about 30 Days of Agvocacy and Social Media – Join us on AgChat.org for different topics or issues related to agvocacy and social media with some outstanding contributors. The goal of this series is to provide you with instruction and how-to help when you are advocating for agriculture and making connections to non-agriculture friends, family and even strangers.
We will offer topics which appeal to both advanced agriculture advocates and for those who are new to sharing their stories with eaters of all kinds. These topics will include trainings which are often requested by the community such as the basics of Twitter, resources for free photos, how to become a better writer, photo tips, blog post ideas and more. More advanced topics will include increasing your followers on Instagram, WordPress widgets, strategies for starting conversations in public and the use of LinkedIn. We'll also address concerns such as bad bloggers, what do consumers really want to know, tips for promoting a pro-foodchoice view, advocating without undermining other farmers and ranchers and more.

A way you can participate is not only to read but share using the #AgChat and #30DaysAgSoMe hashtags.