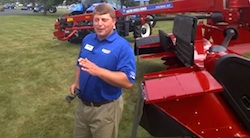 New Holland gave media a sneak peak of their new products during a media day prior to the Farm Progress Show held in Boone, Iowa. One of the technologies the attendees were able to see was the Discbine and they learned about the new features from Jordan Milewski, brand marketing managing, Crop Preparation.
In the video below, you'll learn about some of the features including:
Ability to turn a standing crop into fast-drying windows of swatch with Discbine disc mower-conditioners.
Option for roll or flail conditioning featuring easy roll adjustments, tapered flails and adjustable conditioning hood.
The Discbine line ranges from seven-disc models that cut a nine-foot swatch up to 12-disc models that sweep through more than 15 feet at a time.
"One of the changes for 2015 is we now have the option of what's called the quick max knife system," explained Milewski. "Quick Max allows an operator to easily and quickly change his knifes. With the tool you take blade changes from minutes to seconds."
Check out how it works….
View the Farm Progress 2014 Flicker photo album.