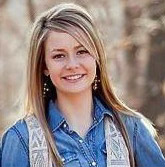 Let me introduce you to Sara Gillum, the ZimmComm Summer Intern. Sara will get her first taste of agriblogging at the Ag Media Summit coming up in Indianapolis. Learn a little more about Sara here:

My name is Sara Gillum, and I am a junior at Mizzou majoring in Agribusiness Management with an emphasis in Science and Agriculture Journalism. I was raised on my family's farm in northern Missouri where we farm around 2,000 acres of row crops and run around 250 head of commercial cattle. My three siblings and I are all products of 4-H and FFA. I began showing cattle at a young age, and over the years, I have developed an unparalleled love for the show stock industry. It has become my passion; the livestock, the grooming, the show ring, and the countless people I have met… I love it all. Because of my involvement in the show livestock industry, I know that I want to go on to positively advocate for livestock and agriculture and hopefully make a career out of it. I look forward to joining the ZimmComm team this summer and traveling the agriblogging highway!

We are looking forward to working with her and I think you will as well.