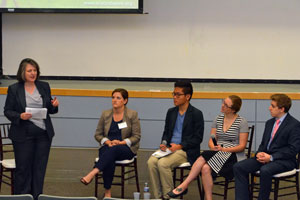 The hostess for the the USB Biobased Products Stakeholders' Dialogue at George Washington (GW) University this week was the moderator for an important discussion about what the "millennial generation" thinks about biobased and sustainability.
University sustainability director Kathleen Merrigan, who is also former deputy ag secretary, invited some current students and recent graduates to be on the panel. "What I really wanted biobased product innovators to understand is that we need to develop all kinds of new communications vehicles to reach this generation," said Merrigan.
The young people talked about the importance of social media and especially short video messages to reach them. "They really like to go out themselves and do the story telling with video," Merrigan said, adding that engaging them in the learning process can be very effective.
Merrigan says GW's Planet Forward spent a lot of time covering the USB event this week, tweeting and gathering video. "What they're doing is trying to teach young people to be storytellers," she said. "We'd like to send our students out to farms and help tell the story of American agriculture."
I had a chance to sit down with Kathleen and chat about her time at USDA and her new job with GW and how the two mesh. Interview with Kathleen Merrigan, GW University Sustainability