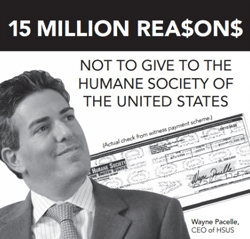 I don't need 15 million reasons not to give money to HSUS. However, I saw the HumaneWatch.org ad in USA Today and was glad they could do it. Hope it helps. The pic here is a portion of that ad. If you want to support your local animal shelter donate your money directly to them. You'll help a lot more animals than HSUS does.
Here are the details from their news release.

Today, HumaneWatch.org, a project of the nonprofit Center for Consumer Freedom, is running a full-page ad in USA Today calling out the Humane Society of the United States (HSUS) and other co-defendants who last week settled a federal racketeering lawsuit brought by Feld Entertainment, parent company of Ringling Bros. and Barnum & Bailey Circus, for $15.75 million. The ad specifically focuses on HSUS and its CEO Wayne Pacelle, who were involved in an alleged illegal witness payment scheme to pursue malicious litigation against the circus.
The case originally stemmed from a complaint filed under the Endangered Species Act in 2000, alleging misconduct by Feld toward its Asian elephants. The U.S. District Court for the District of Columbia ultimately ruled the case was "frivolous," "vexatious," and "groundless and unreasonable from its inception." Another animal rights organization – the American Society for the Prevention of Cruelty to Animals (ASPCA) – settled for an additional $9.3 million in December 2012.
The ad is viewable here.
The ad is headlined, "15 MILLION REA$ON$ Not to Give to the Humane Society of the United States," and features a picture of Pacelle and an image of the actual check he personally signed as part of the alleged witness payment scheme. The ad then explains, "Last week HSUS and others paid over $15 million to settle a racketeering lawsuit that involved witness bribery and obstruction of justice. Support your local humane society, not HSUS."
"This historic case has exposed the despicable tactics of the Humane Society of the United States and other animal rights fanatics," said Will Coggin, CCF's senior research analyst. "Americans should think twice before donating any money to HSUS. It's likely not being spent on dogs and cats as HSUS's ads lead people to believe."