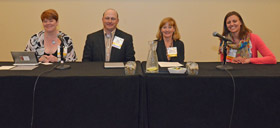 Big ag has been dubbed a bad word among those in the agricultural community and many wonder if size matters. During the recent Animal Agriculture Alliance's Stakeholders Summit they tackled that topic with a panel on "Does Big = Bad?
Panelist included:
Emily Zweber, Zweber Farms and Executive Director for the AgChat Foundation; Janice Person, a member of Monsanto's corporate engagement team; Ray Prock, Owner of Ray-Lin Dairy; and Tamara Nelson, Senior Director of Commodities for Illinois Farm Bureau.
Each shared some personal insights on how size matters when it comes to how our food is produced and answered some questions from the crowd.
Ray said, "I think what has happened is people think that as farms have got bigger and since our farms look different, we've lost the personal touch. And that's what I mean when I say 'red barn values without the red barn.' We need to show the emotion, but we can't always show the red barn because the red barn isn't what every farm looks like."
Cracking the Millennial Code drove the conversation during the conference and each hit on the importance of new forms of marketing to them.
"We have to talk to people where they are. Which is driving us to do some things very differently like going to South By Southwest," said Janice.
Listen to or download the complete panel discussion here: Does Big = Bad Panel
2014 AAA Stakeholders Summit Photo Album