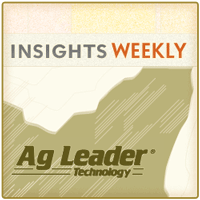 Although spring hasn't fully arrived in many parts of the country, the polar vortex days are thankfully behind us. That means we're all getting antsy for the warm, sunny days of May. Until then, this would be the ideal time for pulling the planter out of the shed to ensure your planting setup is ready for trouble-free field operation.
The first step will in getting ready for spring will be powering on your display to manage data, update firmware and create a backup. Nick Ritland, Ag Leader hardware tech support representative, gives a high-level check-list of some things to keep in mind before you get to the planting season.
Listen to Ritland explain
Current display firmware can be found here and should be updated prior to the start of the season. Guidance firmware can be found here.
Once your display is ready, move to the components located on the planter. Each of the links below will give you a step by step guide to confirm your clutches, population monitoring, hydraulic drives and Hydraulic Down Force are working as they should.
• SeedCommand Pre-Season Checklist
• Planter Task Controller Quick Reference Sheet
• Clutch Control Module Quick Reference Sheet
• Seed Tube Monitoring Module Quick Reference Sheet
• Planter Population Monitoring for Kinze PMM
• Hydraulic Seed Control Quick Reference Sheet
• Hydraulic Down Force Quick Reference Sheet
Ag Leader also recommends looking over the physical components and setup of the planter. Ritland reviews some of the key "to-do" list items.
Listen to Ritland explain
Ritland also says with many customers utilizing the Hydraulic Down Force system this spring, Ag Leader recommends checking gauge wheel sensors, making sure your implement switch is working properly, and verifying that your hydraulic circuits are working properly:
Listen to Ritland explain
For any questions you may have please contact support@agleader.com or call 515-232-5363. Current Support Hours:
Monday-Friday: 7am to 7pm CDT
Saturday: 8am-4pm CDT
Sunday: 12pm-4pm CDT
Tech Support would like to wish you a safe and seamless planting season!
Become a fan of Ag Leader on Facebook today, and get the latest precision ag videos on the YouTube channel. For more information about Ag Leader products and services, or to visit the blog site, go to www.agleader.com.