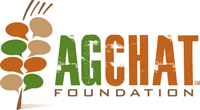 The AgChat Foundation is looking for a new Executive Director. Interested? Better know your agricultural social media stuff! "Retiring" from the position is the first AgChat Foundation ED, Emily Zweber.

"Since her hiring in 2011, Emily Zweber has been a crucial member of our team here at AgChat, serving as our Executive Director. During her tenure, she has been a tremendous asset in successfully steering ACF to become the leader in educating and equipping farmers, ranchers, agribusiness professionals and educators with the tools needed to effectively tell their stories of agriculture through social media platforms," Foundation President Jeff VanderWerff said, "We are saddened by the loss of Emily and wish her well in her future endeavors."
The new Executive Director will oversee the general administration of the organization including fundraising, execution of major goals, management of the organization's structure and personnel and facilitation of all major activities and meetings including board and committee members, among other responsibilities. For a complete description, please visit the job announcement located at AgChat.org.
Interested parties may submit their resume to hiring@agchat.org by April 15. ACF expects the new Executive Director to join by mid-2014.