There is a cow in Patrick O'Shanahan's kitchen this morning as his dad makes his world famous french toast. Why? Because Patrick thinks his food comes from the grocery story until the cow, a menagerie of chickens and a few maple trees appear causing him to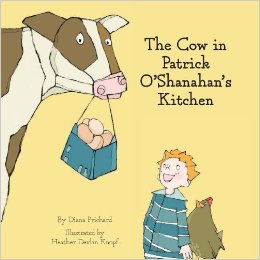 rethink where his food comes from. In this new children's book, "The Cow in Patrick O'Shanahan's Kitchen," authored by Diana Pritchard, children can begin to learn more about the animals that provide their food and the farm to fork concept.
Prichard, who lives in a rural farming community and is raising children of her own, says she is frustrated about the voices who are telling the story of American farmers. "Watching people who have little or no practical knowledge of agriculture dominate our national discourse on food and faring is extremely frustrating," explained Prichard. "I wanted to contribute a positive and informed message for parents and kids."
And that she did. The illustrations are quirky and fun and the ideas of where food comes from are easy to understand and presented in an engaging way. With all the concern about where our food comes from, this book is a great way to introduce children to the concept of how food is produced.