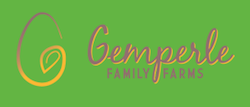 Gemperle Family Farms has launched an online video series to showcase egg-related crafts, recipes and science experiments, and to provide a behind-the-scenes look at farm life.
"At our Gemperle Chicken Ranch, we think it's important to educate customers on what makes Gemperle Eggs special while having fun at the same time," explained Gemperle Family Farms President Steve Gemperle. "These videos take an egg and transform it from a kitchen staple into an interesting and engaging science experiment, recipe or craft."
All the videos highlight Gemperle chickens and eggs, ranging from explaining Egg-o-Nomics, to showcasing the Gemperle family's dedication to happy and healthy chickens. For example, the kid-produced Bouncy Egg video uses Gemperle eggs to show kids how science can transform an egg into a rubber toy. There are already more than a dozen videos available and more added monthly.
In support of the new video series, Gemperle Farms is hosting an online contest, "Holiday Video Viewing." Contestants are invited to watch educational and entertaining child-friendly videos on the website for a chance to win one of three fabulous prizes.
Go to the Gemperle Family Farms video webpage, watch a video, and send Gemperle Farms an email. Emails should be sent to susangemperleabdo@gmail.com with the subject line, "Gemperle Farms Videos." In the text, include your name and the number of videos you watched. For each video, contestants will receive one entry into the drawing for an Amazon gift card. The contest runs through December 13, 2013. Winners will be randomly selected on December 16.