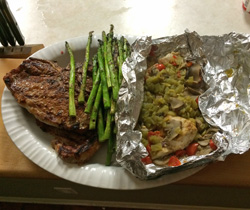 This Thanksgiving let's all give a little thanks for the food we have to eat. When it comes to food what are you thankful for? Let everyone know via your social media channels using the hashtag – #FoodThanks. I'll start with this platter of surf and turf from my grill last weekend. Grilled T-bones, asparagus and Gulf Amberjack foil wrapped with green chiles, tomato, mushrooms, garlic, red onions, olive oil and my own selection of special slices. It was all good and all good for you. And every bit of it was available because of hard working farmers and fishermen. Thank you!
The AgChat Foundation just started its fourth annual FoodThanks campaign which features "Give a Bag. Get a Bag." to encourage participants to help their local food bank.
"The campaign aims to bring together everyone in the food system, no matter who you are, how you fit into in, or your favorite social media channel," says Jeff VanderWerff, a Michigan farmer and president of the AgChat Foundation. "It's about forgetting the food fights and taking time to share thanks for safe, abundant food."
Use Instagram or Vine to show a meal that's special to you and explain why. Share a recipe and tag someone you're enjoying it with.
Join the #foodthanks Twitter chat and Google Hangout – Thursday, Nov. 21 at 8/7 CST.
"In addition to saying #foodthanks online, the AgChat Foundation is encouraging participants to give #foodthanks offline this year," adds VanderWerff. "Consider giving your time—whether 10 minutes or an hour—to make a meal for a neighbor or to volunteer at the food bank or homeless shelter."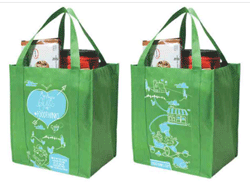 Starting Nov. 18, participants can pledge to donate a bag of food to a local food pantry via an online form at www.foodthanks.com. Those who take the pledge will receive a special edition #foodthanks tote. Quantities are limited.
"It's a simple pledge, followed by a lasting reminder to be thankful every time we visit the grocery store—even when the holiday season is over," VanderWerff says.