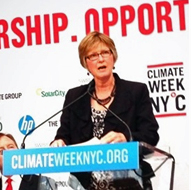 The president of the National Corn Growers Association provided a voice for American farmers Monday at the Opening Ceremony for Climate Week NYC 2013 along with leaders from business and government all over the world.
Iowa farmer Pam Johnson, who spoke alongside international notables including former United Kingdom Prime Minister Tony Blair, President of World Bank Jim Kim, U.S. Special Envoy for Climate Change Todd Stern and many others, brought the story of American corn farmers to the panel. In her remarks, she stressed the scientific and technological advances agriculture uses to increasing demands and an ever-changing environment.
"Modern agriculture isn't the problem; it's the solution," Johnson explained. "We are producing more grain on limited arable acres."
"Perhaps more than any other sector of the economy, farmers are dependent upon the weather and must find ways to adapt to changes to remain productive," Johnson said. "The good news is that technology advancements in agriculture are helping farmers become more resilient in the face of volatile weather while also significantly decreasing greenhouse gas emissions."
In its fifth year, Climate Week NYC provides a global summit for government, business and thought leaders to drive innovation, build coalitions and deliver practical solutions.