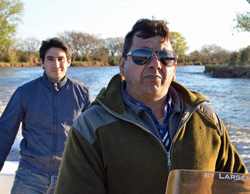 A highlight to Chuck's recent trip to Argentina for the International Federation of Agricultural Journalist (IFAJ) Congress, was during the livestock tour where he witnessed gauchos drive horses and cattle across a local river.
Unable to turn down the opportunity for a unique interview, Chuck chatted with the Argentinian boat captain while he guided the tour boat across high waters. The captain said he gives fishing tours using his Tracker boat, but seasonally high amounts of rain have left the river quite full and fish scarce.
But have no fear, the high water doesn't make it impossible for the horses and cattle to cross. The boat captain said they always make it across and are great swimmers.
Listen to Chuck's conversation with the boat captain here: Interview with Argentinian Boat Captain
2013 IFAJ Congress Photo Album
Coverage of the 2013 IFAJ Congress is sponsored by Novus International and Dupont Pioneer