The National Farmers Union held a star-studded press conference on the first day of its Legislative Fly-In in Washington to highlight two important issues for agriculture – passing a farm bill this year, and maintaining the Renewable Fuel Standard (RFS).
Rock star of the event was Grammy-winning artist Neil Young, pictured here with NFU President Roger Johnson. Young, who was among the original founders of Farm Aid in 1985, rocked the free world with his support of ethanol. "I love ethanol. I love how it smells, I love the way it makes my car go, everything about it is great," said Young. "It's a beautiful fuel." He encouraged those who support alternative fuels to contact their lawmakers and urge them to maintain the Renewable Fuel Standard (RFS).Neil Young for Ethanol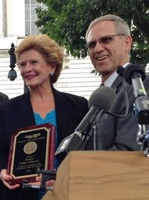 The other stars at the event were Senate Majority Leader Harry Reid (D-NV) and Senate Agriculture Committee Chair Debbie Stabenow (D-MI), who were presented with the NFU Golden Triangle Award.Sen. Stabenow remarks
Special thanks to Agri-Pulse for providing better audio than I was able to record through a cell phone on the speaker from the event!
Johnson was thrilled with the event and excited to have 300 NFU members on Capitol Hill this week to press lawmakers to finish a farm bill this month. "This is a bill that's 95% done, all they have to do is finish it," said Johnson. Interview with NFU President Roger Johnson