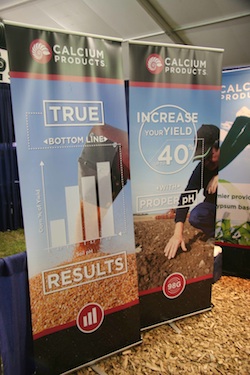 Exhibits large and small flooded the 2013 Farm Progress Show in Illinois last week. Calcium Products was one of those booths you could visit and quickly have all your soil and fertility questions answered.
After talking with Craig Dick, Vice President of Sales & Marketing for Calcium Products, I learned why they come to the largest out-door farm show and how they are helping farmers improve yields and solve their fertilizer needs.
"Calcium Products is a 26 year-old company. We produce the countries purest, most efficient pelletized gypsum and lime products, SuperCal S04 and SuperCal 98G. And we distribute the products all across North America."
Calcium Products has recently redesigned their website, www.calciumproducts.com. Now it is easier to find resources to help you optimize your soil and raise your bottom line. Find product information and custom calculators, agronomy research, stories of real results and much more.
Listen to my interview with Craig here: Interview with Craig Dick
Check out photos from the event here: 2013 Farm Progress Show Photo Album
Coverage of the 2013 Farm Progress show is sponsored by Bayer CropScience, Growmark and New Holland