Ever since Justin Timberlake sang about bringing sexy back, it appears that sexy is making its way back to a lot of things – including, says Rod Hamilton, agriculture. Although he admits that the cheek and tongue comment gets people's attention and that's not necessarily the image in which he believes ag should brand itself, he is serious that one reason kids and college students aren't working toward careers in ag is because they don't think its a cool industry. But it is.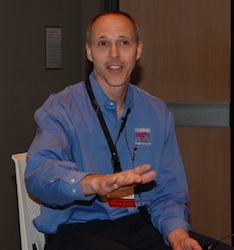 Rod Hamilton joked about not being sure why he was asked to speak to the over 200 attendees at AgCareers.com Ag & Food HR Roundtable but it only took a few comments for everyone to realize, why in fact, he was perfect. Rod didn't begin life on a farm. He was sent to a farm to "grow up" and before he knew it he landed a job at Christensen Farms (a pork producer) based in Minnesota. Now the communications manager, he has seen several things: an industry that is not delivering a consistent message nor doing a good job of telling positive stories about itself and a shortage of up and coming talent. He noted that HR managers need to widen their pool of candidates and begin recruiting kids at a younger age to get them excited about agriculture.
Rod is also interesting because he sees an industry that needs more involvement in politics, so to fill the void he became a politician. He is now serving his fifth term in the Minnesota House of Representatives, and he is a member of the Agriculture Committee and served as Minority Lead, Vice Chair and Chair of the Committee. In this role, he has worked with educators throughout the state from elementary school through college as well as members of Minnesota communities who are passionate about where their food comes from, to ensure ag education stays in the classroom. And fortunately for the ag industry, he is just ramping up his career.
I couldn't help but become excited about the field during his presentation and as the first day came to a close, I realized that if HR managers could bottle his passion for the industry and for kids and sprinkle it on students around the country, there would no longer be a shortage of amazing talent entering the agribusiness industry. But until then, he gave HR managers some great advice on recruiting and retaining talent to the ag industry.
Listen to my interview with Rod Hamilton here: Rod Hamilton Brings Sexy Back to Ag
Visit the AgCareers.com Ag & Food HR Roundtable photo album.