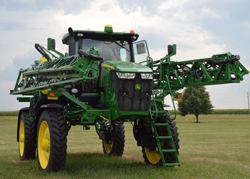 To meet evolving application needs of customers and Final Tier 4 emissions requirements, John Deere is introducing the new, completely redesigned John Deere 4 Series Sprayers.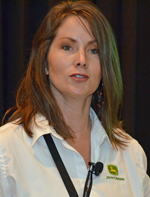 According to product line manager Brea Harms, the R4030 and R4038 Self-Propelled Sprayers offer greater productivity, more uptime, and reduced cost of operation while delivering faster, easier and more precise product application.
"We've added the Solution Command System for push-button automated loading and a new front-fill option that makes loading easier and faster with 3-inch Quick Fill couplings at the front of the machine," Brea says. She also explained during a classroom session how the new sprayers can help farmers deal with herbicide resistance. John Deere's Brea Harms
We learned quite a bit about these new sprayers during the media introduction in Columbus, Ohio. Check out the video below narrated by product manager Laura Robson and look forward to seeing them in person at Farm Progress Show.