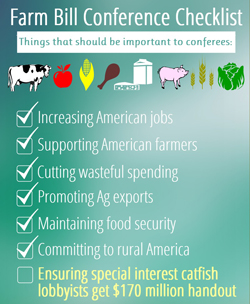 The House farm-only version of the farm bill includes repeal of USDA catfish inspection program but the Senate bill does not and those who are in favor of getting rid of the program are hoping it will survive the conference committee.
"Its fate now lies with the Farm Bill conferees who will have to decide if they support American farmers or a special interest handout that wastes 170 million taxpayer dollars and puts U.S. Ag exports at risk for retaliatory measures from our trading partners," said Gavin Gibbons with the National Fisheries Institute. "As this process unfolds it's important to remember a bipartisan group in the Senate opposes the program, a bipartisan group in the House opposes the program, the GAO opposes the program, countless Ag groups oppose the program, and even the White House opposes the program."
The House bill was sent to the Senate this week and the next step is putting together a conference committee.