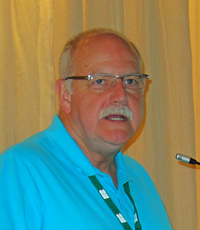 It's now official. Our good friend and ag industry veteran Hugh Whaley has joined the National Association of Wheat Growers (NAWG) and the National Wheat Foundation (NWF) as director of corporate relations. Though we have known Hugh for nearly 30 years now, this is the best fairly recent photo I could find. And Chuck just saw him a month ago!
In his new role, Whaley will be the organizations' lead staffer working to initiate, build and maintain strategic relationships with agribusinesses and other industry partners. NAWG and the Foundation, which is managed by NAWG, facilitate a wide range of policy, educational and outreach activities and maintain the Wheat Growers Building on Capitol Hill. Whaley was most recently the general manager for the U.S. Farmers and Ranchers Alliance (USFRA), of which NAWG is a member. Previous to that, he worked for two well-known marketing communications firms focusing on agriculture clients and for the American Soybean Association.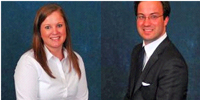 NAWG is also pleased to announce the promotions of Brooke Shupe to director of government affairs for risk management and Will Stafford to assistant director of government affairs for trade, transportation and commodity markets. Shupe joined the Association in April of last year and manages farm policy, crop insurance and related policies. She also runs WheatPAC, wheat growers' political action committee. Stafford came to NAWG in 2011 and became a government affairs representative last year. In addition to trade, transportation and markets, Stafford follows research policy.