Boehringer Ingelheim Vetmedica, Inc. (BIVI) has announced several new additions and changes in its swine division recently.
Two new employees joined the team Swine Division in April. Gregory Lewis is regional sales manager and Nathan Schaefer, DVM, is a professional services veterinarian. Both joined the company in April. Lewis was area sales manager for Land O' Lakes for the past two years and previously spent 19 years in various sales management and marketing positions with Alpharma. Dr. Schaefer spent two and a half years as a swine production veterinarian for Iowa Select Farms in Iowa Falls, Iowa, where he oversaw the health management of the company's farrow-to-wean and gilt development programs.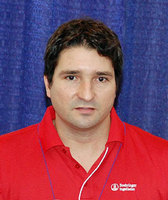 Jean Paul (JP) Cano, DVM, has been promoted to senior associate director of Swine Professional Services. Cano earned his DVM in Venezuela and his Ph.D. from the University of Minnesota. He gained broad experience as a swine practitioner in Venezuela, where he also wrote a number of peer-reviewed journal articles. Cano joined the BIVI Swine Division in 2009. We've interviewed JP a couple of times here on AgWired – once at World Pork Expo in 2010 and again at the 2012 PRRS Symposium.
Erin Johnson, DVM, has been promoted to technical manager on the PRRSolutions Team, which leads the Area Regional Control & Elimination (ARC&E) efforts and is supported and advised by recognized PRRS experts from across the U.S. The team conducts and coordinates the research, design and development of the ARC&E and plays an active role in supporting efforts of ARC&E working groups across the country.