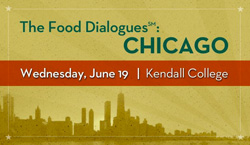 Yesterday's Food Dialogues topic was, "TRANSPARENCY AND FOOD: OUR RESPONSIBILITY TO MAKE INFORMATION AVAILABLE TO TODAY'S CONSUMER." This was part two of the U.S. Farmers & Ranchers Alliance panel discussion in Chicago on the topic. The event took place at Kendall College School of Cullinary Arts.
Panelists included Ellie Krieger, moderator, RD, host of Food Network's Healthy Appetite, and New York Times best-selling cookbook author View Full Bio; Bo Stone, Farmer, P & S Farms, Rowland, NC; Gene Kahn, Former President and CEO of Cascadian Farms; Brad Nelson, Marriott International Corporate Chef and Vice President of Culinary; Kathleen Merrigan, Former Deputy Secretary Dept. of Agriculture; David Fikes, Food Marketing Institute Vice President, Consumer/Community Affairs, Communications; Lynn Martz, farmer, Martz Family Farm, Maple Park, Ill.; Jayson Lusk, Oklahoma State University agriculture economist and author, "Food Police" and Jim Riddle, Organic Research Grants Coordinator, The Ceres Trust, and owner, Blue Fruit Farm.
You can still watch the event via the recording below.