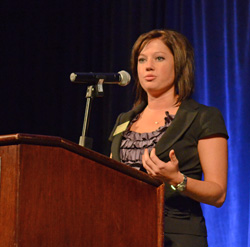 The Livestock Marketing Association focuses on their members and during the 2013 World Livestock Auctioneer Championship in Montgomery, Alabama meetings were held to make sure the most effective and up-to-date policies were in place for LMA producers.
During the annual membership meeting a couple of legislative resolutions were discussed to change policies for producers across the country. Chuck talked with Chelsea Good, the new Vice President for Government and Industry Affairs for the Livestock Marketing Association. She works with legislative efforts at both national and state levels.
Four key policy issues came to the forefront for members. Chelsea shared that resolutions were made in regards to animal disease traceability, the updating of the Packers and Stockers Act, LMA's discion to stay neutral in country of origin labeling and the choice to appose the releasing of producer information by the government.
Chelsea stressed the importance of staying engaged with regulatory agencies, now more then ever, due to the fact that many of their leadership are at least two generations removed from agriculture.
You can listen to Chuck's interview with Chelsea here: Interview with Chelsea Good
Here you can find photos from the event: 2013 LMA/WLAC Photo Album