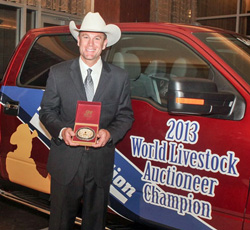 A big congratulations to Dustin Focht, Stillwater, OK, who is the 2013 World Livestock Auctioneer Champion! Here's a photo of Dustin. The Runner up Champion is Blaine Lotz from Edna, Kansas and the Reserve Champion is Brian Little from Wann, Oklahoma. We had a fantastic group of 31 contestants for this honor. It's the Super Bowl of livestock auctioneering and I'm proud to have had the opportunity to be a judge for the interview portion of the competition.
As the 2013 World Livestock Auctioneer Champion Dustin will be driving that truck he's standing in front of. He's also holding his Gist Belt Buckle and will also receive a Champion Sculpture, $5,000, Hand-tooled leather briefcase, World Champion Ring, Golden Gavel Award and James Reid, Ltd. Money Clip. Dustin will make a lot of appearances around the country in the coming year. Maybe he'll be in your area soon. If so, please say hello and meet an awesome representative of the livestock auction market industry.
If you'd like a short sample of yesterday's ring competition I shot a video clip of the first contestant before I had to hit the road. I've got plenty of early photos from Montgomery Stockyards in the photo album too. I also have more interviews to share from the LMA Annual Convention too.