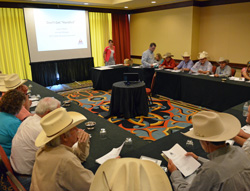 Animal handling is THE big priority issue for the Livestock Marketing Association. Members have Laura Marks, LMA Director of Animal Handling, as a great resource when it comes to this issue. Here at the 2013 LMA Annual Convention Laura conducted a workshop on this issue. I visited with her in between sessions to learn what she wanted members to know. Laura says members want to treat the animals in their care the best way possible at all times.
You can listen to my interview with Laura here: Interview with Laura Marks
The LMA offers Animal Care Training information for its members which can be found here.