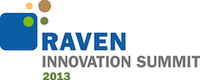 This week Raven Industries will be holding their 2013 Raven Innovation Summit in Sioux Falls, South Dakota. The event will provide an opportunity to discuss industry trends and to learn from Raven dealers and partners from across the globe. Raven Industries is eager to share how they are continuing to evolve and change along with the entire agriculture industry. This summit they will take the opportunity to showcase these changes.
I am excited to have the chance to attend their event this year, representing the ZimmComm team. Later this week you will be able to find interviews with Raven leadership, summit attendees, as well as producers and links to photos here and at PrecisionPays.
Raven Industries have gone mobile this year with an event app and texting servies. Text "RIS13" to 57682 for general questions and download Guidebook from the Apple App Store or the Android Marketplace.