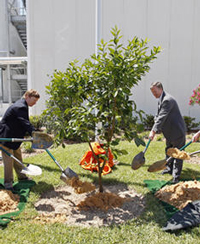 Orange juice is the "Real Thing" in Florida and Coca-Cola is helping the industry keep brightening our days with glasses of sunshine.
The Coca-Cola company is committing $2 billion to support the citrus industry in Florida by planting of 25,000 acres of new orange groves in the Sunshine State.
Under the agreement with with Cutrale Citrus Juices and Peace River Citrus Products, growers will plant 5 million new trees on land that previously held citrus groves or are now idle in Polk, DeSoto and Hendry Counties, and Coca-Cola will buy the fruit. The investment is expected to create approximately 4,100 new jobs and add more than $422 million per year to Florida's economy.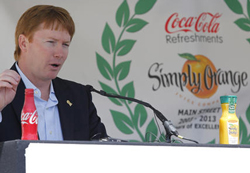 "Citrus is synonymous with Florida, but the industry has faced many challenges in recent years, particularly the growing threat of citrus greening," said Florida Commissioner of Agriculture Adam Putnam.
Citrus greening is a bacterial disease that poses an existential threat to the state's $9 billion citrus industry. The disease is spread by the Asian citrus psyllid and causes trees to produce misshapen and bitter fruit. Infected trees generally die within three to five years. The disease is present in every citrus-producing county in Florida and in more than half of the state's groves. The Florida Legislature recently appropriate $9.5 million to support research and the fight against citrus greening across the state.