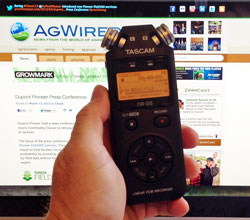 I just got a new tool in my awesome arsenal of agriblogging and farmpodcasting. It's a Tascam DR-05 Handheld Digital Recorder and it will be out and about with me starting next week at National Ag Day activities. Here's some information about it for you agnerds:

The TASCAM DR-05 handheld portable recorder records in MP3 or WAV format (including 96kHz/24-bit high-resolution audio) to microSD or microSDHC media. A pair of built-in condenser microphones handles up to 125dB SPL with the sensitivity to capture every detail, and you can add your own microphone or line-level source through the 1/8" stereo input, including plug-in power for microphones that need it. The DR-05's digital and analog circuit boards are built separately to decrease noise performance, with a low-impedance design to further decrease hiss. A separate power supply is sent to the A/D and D/A converter for even better audio performance. The result is clean sound quality with over 92dB signal to noise ratio, under 0.05% total harmonic distortion and 20Hz to 40kHz response (-1/+3dB) at 96kHz/24-bit resolution.

The Tascam DR-05 is currently on sale for a great price at BSW USA.