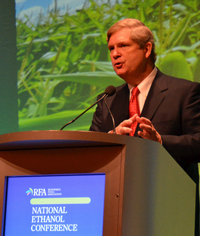 Agriculture Secretary Tom Vilsack hit two meetings in one city last week, appearing at both the National Ethanol Conference and the National Biodiesel Conference within a few hours of each other, since they were both being held in Las Vegas a mile apart.
Vilsack told both groups that the renewable fuels industry is worth fighting for. "Your country's future depends on it," he said. "It's that important. That's why I'm here – I firmly believe it."
Watch the Secretary's address at the NEC below:


Video streaming by Ustream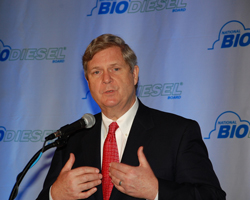 Understandably, the secretary gave similar speeches to both groups – but not the same and he had slightly different questions to address specific topics such as chances for a farm bill, energy title funding and more. We covered both events last week for the 7th and 8th years in a row.
Listen to Vilsack's speech to the biodiesel conference here: Vilsack at NBB Listen to his speech to the ethanol conference here: Vilsack at NEC
2013 National Biodiesel Conference Photo Album

2013 National Ethanol Conference Photo Album