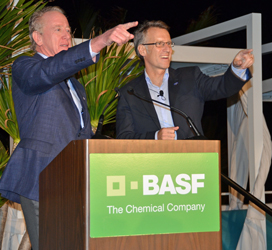 Archie Manning was a well-known quarterback in the 70's and 80's, playing for the New Orleans Saints for ten years, then the Houston Oilers and the Minnesota Vikings – but these days he is better known as Eli and Peyton's daddy.
Archie, pictured here with Senior Vice President of BASF Crop Protection Nevin McDougall, provided some words of wisdom about family, faith and football for farmers meeting in Ft. Lauderdale at a BASF Innovation Symposium this week. "I do a lot of speaking to a lot of different groups but there's so many similarities in various industries and businesses," Archie told me during a short interview. He noted that football and farming are similar because they both involve hard work. "I know something about farming. I grew up in a rural community and my dad was in farm machinery and his two brothers farmed," he said. "I know how hard farmers work and how tough it can be. But it can be great too when those crops come in."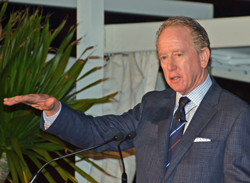 The Mannings have produced a great crop of football players, that's for sure. All three of their sons were standout players from high school and eldest son Cooper would probably be right up there with Eli and Peyton had his career not been cut short due to a spinal condition discovered when he was 18. To Archie, family is everything. "I think it's the core of the American way. Family should be a high priority with everyone," he says.
Listen to my interview with Archie here: Archie Manning interview