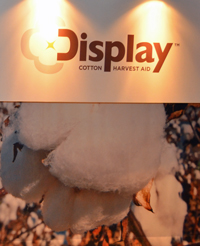 New Display (TM) cotton harvest aid from FMC Corporation showed good results in limited use last season and the company is now looking forward to expanded use this season. Rusty Mitchell gave us some of the technical details about Display already, Randy Childress then talked to us about the results he saw last year in the field.
Randy covers west Texas and into New Mexico for FMC and was able to see Display at work as a harvest aid for cotton in his area. "Did a very good job, pleasantly surprised with the effects we got with this in a tank mix," Randy said. "Display gave us a very versatile product that we used in a lot of different conditions."
Randy says Display offers the same advantage of Aim herbicide in that it can be used without harm to cover crops like wheat. "Display fit like a glove," he said. "You can put it out, take the leaves off the cotton without harming any adjacent crop or the cover crop."
Display was just released last August so this will be the product's first full year of commercial availability for cotton growers throughout the cotton belt.
Listen to my interview with Randy here: Randy Childress interview
Check out photos from the conferences here: 2013 Beltwide Cotton photo album