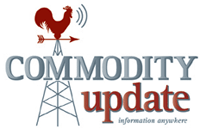 Big announcement from Farm Journal and Commodity Update today!

Farm Journal Media announced it has acquired the majority interest in Commodity Update, the leading mobile media company serving agriculture. Farm Journal acquired a minority stake in the company two years ago.
Joel Jaeger will continue to serve as CEO of Commodity Update, will continue to maintain a significant stake in the enterprise, and will also join Farm Journal's Executive Leadership Team, responsible for driving a wide range of mobile marketing solutions that benefit farmers and the companies that do business with them.
Founded by Jaeger in 2006, Commodity Update currently serves more than 75,000 subscribers, who receive up to three separate information products and more than three messages each day as part of an individually personalized subscription package. Subscriber satisfaction and subscription renewal has tracked over 90% annually during the last three years.
"Joining forces with Farm Journal Media helps us develop even more powerful and integrated mobile marketing solutions, and expands the information set we can bring to farmers' phones," Jaeger said. "The mobile category will play a significantly bigger and more strategic role in the overall media mix in the next few years. We've been the leading mobile offering in agriculture for seven years, and we're excited to take that to the next level with an innovative organization and powerful brand like Farm Journal."