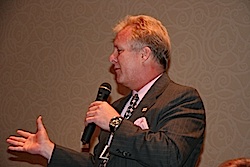 A highlight for my first trip to Alltech's Global 500 was the discussion dinners. Being a beef producer myself, I was excited to attend one on the beef industry. How often do you get the chance to discuss and share ideas about farming with people from around the world.
After an intimate steak dinner with about 40 Global 500 attendees from various countries, Steve Elliott, Alltech USA, served as our moderator leading the discussion. The general question posed was how to improve efficiencies in the beef industry.
Discussion spiraled from, should we all be seeking an ideal beef animal, to should the consumer drive the demand or do we have an over abundance of beef cattle. I spoke with Steve after the event to get his thoughts on the topics mentioned and what he thought the overall take home message was.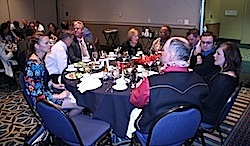 "Tonight we wanted to see how as a group we could improve efficiences in the beef industry. We know tremendous variability is an issue. We had a very lively discussion on various things that the group thought we could do to help improve efficiency."

"The challenge is how do we bring that variability down a bit and prop up the product that we offer the consumer because the consumer is king and they are going to make decisions on what products they buy."
Listen to my complete interview with Steve here: Steve Elliott - Global 500
Check out all the photos from this years Global 500 here: 2012 Global 500 Photo Album