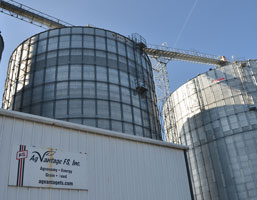 The first stop on the GROWMARK media tour through Iowa last week was in the little town of Chapin, just south of Mason City, where the main work horse grain facility of AgVantage FS is located.
The facility handles 10-12 million bushels a year – about 40% of the co-op's total. "We're an operating division of GROWMARK," explained Grain Marketing & Operations Manager Kevin Gray, pictured below left with regional grain manager Barney Bartels. "We cover 32 counties, 27 in Iowa and five in southeast Minnesota, stretching from the Mississippi River to Alexander on the west side."
Kevin says the co-op covers a large geography with 14 grain elevator locations. "Customer service is the number one priority for us," Kevin said. "We want to keep our customers profitable, we want to make sure they're competitive, we try to reduce their risk and we want to make doing business with AgVantage grain division as comfortable and easy as possible."
Listen to my interview with Kevin here: Interview with Kevin Gray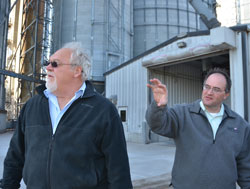 Despite the drought this year, the facility still managed to bring in quite a bit of grain, since the impact of the drought on the region can be summed up in one word – variable. "We've seen a range from 30 bushels per acre (corn) to basically 130 bushels per acre," said Barney. "You go to the south, we've seen a range of 100-200 bushels an acre."
Barney says the original bins at the Chapin facility were put up in 2003, with another 2.2 million bushels of space added in 2006. Grain from the AgVantage FS supplies a number of ethanol plants in the region and much of it is sent southwest for dairy markets.
Listen to my interview with Barney here: Interview with Barney Bartels
For more detail, listen to Kevin's overview here: AgVantage FS Chapin Grain Facility