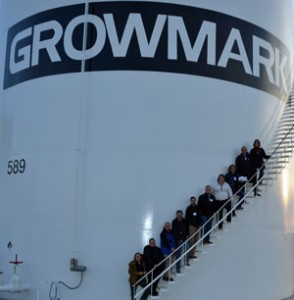 Just returned from a great media tour of GROWMARK and FS Cooperative facilities in Iowa. Unfortunately, I was unable to make the last stop due to flight scheduling, but I did get to attend the majority of the tour and it was fantastic! Congrats to Karen Jones, GROWMARK Publications and News Specialist, for putting together a very interesting and organized event.
Our stops in Iowa included the AgVantage FS grain facility in Chapin, the GROWMARK Ft. Dodge Fuel Terminal (where this photo was taken), and the brand new – soon to be opened – fertilizer facility in Stuart. The stop I missed was New Century FS in Vinton.
I got lots of great interviews to share in the coming days and weeks, as well as some I will be getting from my colleagues on the trip, but you can enjoy the photos now by clicking on the photo album link below. Thanks again to GROWMARK for allowing us this opportunity – it was a blast!