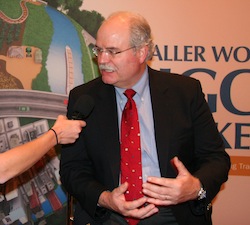 You may believe the farm bill doesn't effect you, but you might be surprised to find out that it covers more than you think. It was a hot topic during National Association of Farm Broadcasting's Trade Talk. While sitting down with U.S. Grains Council's President and CEO, Tom Sleight, I was reminded how intricate this farm bill is.
"It's an interesting dilemma for us. The farm bill is not well known and one reason to get the farm bill moving. Public/private partnerships between US Grains Council take checkoff dollars and match that with business contributions. Thats matched again by USDA funding. That USDA funding was no longer authorized when the farm bill lapsed on October 1. So, we are working very closely with USDA to keep our offices open as long as we can. If the farm bill doesn't get passed we might be forced with furlowing employees and closing offices come sometime in February."
Tom said we need to talk more openly about the importance of trade to US agriculture. Many people don't realize this public/private partnership funding is included in the farm bill.
The US Grains Council is partnered with 29 different checkoff entities for corn, sorghum and barley throughout the United States. But also with around 100 agribusinesses and grain exporting companies. These groups all have the common interest of making trade work around the world.
Listen to my complete interview with Tom here: Tom Sleight - US Grains Council
2012 NAFB Convention Photo Album