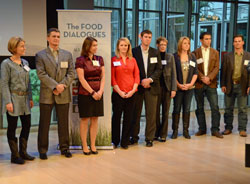 The finalists in the USFRA Faces of Farming and Ranching program were announced today at the New York Food Dialogues.
Those finalists include: Chris Chinn (Missouri), Will Gilmer (Ala.), Daphne Holterman (Wis.), Brenda Kirsch (Ore.), Tim Nilsen (Calif.), Eric McClam (S.C.), Katie Pratt (Ill.), Bo Stone (N.C.) and Janice Wolfinger (Ohio).

More than 100 applications were received from passionate, dedicated farmers and ranchers from across the nation, nine of whom were selected as finalists. The winners will become the face of agriculture, and will be tapped to share stories and experiences on a national stage to help shift conversations about food production and set the record straight about the way we feed our nation.

I talked with two of the finalists, Chris Chinn and Janice Wolfinger. In our interview you'll hear how passionate they are about farming and why they think this program is so important.
You can listen to my interview with Chris and Janice here: Interview with Chris Chinn and Janice Wolfinger
Starting at 1:30 p.m. ET on Nov. 15 through Dec. 15, people can visit www.fooddialogues.com to learn more about each of the nine finalists and the work they do. Consumers, farmers and ranchers are asked to vote for who they believe best represents those across the country who work to bring food to the table. These votes will be factored into the decision to determine the Faces of Farming and Ranching.
In addition to the public vote, a panel of judges will interview and evaluate the finalists to help determine the winners of Faces of Farming and Ranching. Winners will be announced in early January 2013.

All media and well, just anyone, is free to use my photos and share: 2012 USFRA Annual Mtg. & Food Dialogues Photo Album