BASF Crop Protection had great news to talk about with farm broadcasters at the NAFB meeting in Kansas City this week.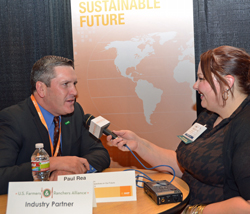 According to a new BASF survey, a majority of consumers and growers agree that modern agriculture can achieve two critical goals simultaneously: Feed the world's growing population while demonstrating responsible stewardship.
More than 80 percent of the growers and nearly 70 percent of the consumers who participated in the survey were confident that growers will be able to strike a balance between producing enough food for the planet and preserving it for future generations. "Technology and knowledge advancements" were cited by both groups as the primary reasons for their confidence.
"Technology is and will continue to be the number one driver behind our ability to meet the demands of a growing population in a way that stewards resources," said Paul Rea, Vice President, U.S. Crop Operations, BASF. "We know there is no room for failure—we have to make it happen. This is what drives our commitment to invest $2 million a day in research and development on innovations that will help growers preserve the land and maximize yields."
Listen to or download my interview with Paul at NAFB here: BASF VP Paul Rea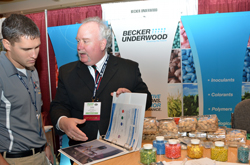 I also got a comment from Paul on the recent announcement that BASF will be acquiring the assets of seed treatment company Becker Underwood. "We expect to close on that transaction here in the next few weeks and we're very excited to bring their technology to our very extensive BASF crop protection technology," said Paul. "We already have some very well established seed treatment technologies and there will be nice synergy between those products and what the Becker Underwood team has."
Listen to or download Paul's comments on Becker Underwood here: BASF-Becker Underwood
2012 NAFB Convention Photo Album