Communication is important for any organization, and at the recent 83rd Annual Meeting and Trade Show of the American Society of Farm Managers and Rural Appraisers and AgroNomics Conference & Trade Show, Chuck caught up with George Baird, an accredited farm manager (AFM) who has a company called Baird & Brunson Land Management Group based in the Mid-South. He explained what one of ASFMRA's communications tools is AgProLink, which Baird likens to a social network site just for farm managers.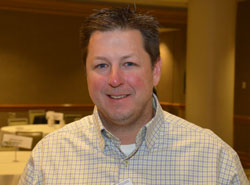 "[We] work on problems, discuss issues… and it's just another way to keep everybody tied together," Baird said. He added AgProLink is helping farm managers do more things more efficiently. "We can't do everything. Some of us are good at some things, [others are good at others]. This is a perfect way to lean on each other."
And Baird stressed the importance of attending conferences like this one and the networking opportunities it brings. "People tell me it costs too much to go. I tell them, 'I can't afford not to go!'"
Listen to Chuck's interview with George here: Interview with George Baird, AFM, Baird & Brunson Land Management Group
AgWired coverage of the ASFMRA Agronomics Conference is sponsored by Halderman Farm Management.