Each year, the NAFB Foundation provides financial support and educational opportunities in the form of college scholarships to assist students in pursuit of careers in agricultural communications and once again this year three scholarships were presented to promising young people.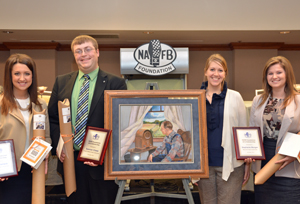 This year's winners are Paige Wallace of Missouri, Spencer Chase of South Dakota, and Stephanie Morgan of Missouri. They are pictured here from left to right with Katie Knapp of Charleston Orwig, which presented each of the students with a print of the commemorative "Farm Broadcasting Through the Decades" art series being created especially for the Foundation.
Paige, who received the Glenn Kummerow Memorial Scholarship, grew up on a registered Angus farm in Stotts City, Missouri and is attending Oklahoma State University, pursuing a degree in Agricultural Communications. This summer, Paige was a communications intern for the National Cattlemen's Beef Association in Washing-ton D.C. She started co-hosting "The Angus Report" in 2011 on RFD-TV and is now reporting for Oklahoma Horizon, a show that also airs on RFD-TV and local Oklahoma channels.
Listen to my interview with Paige: NAFB Scholarship winner Paige Wallace
Spencer is a Junior Broadcasting Major at South Dakota State University in Brookings, South Dakota. He first became aware of NAFB when working as an intern in the National FFA Convention newsroom and became a student member shortly thereafter. He interned this summer with NAFB members Michelle Rook and Tom Riter at WNAX Radio in Yankton, South Dakota.
Listen to my interview with Spencer: NAFB Scholarship winner Spencer Chase
Stephanie Morgan is a senior at Missouri State University William H. Darr School of Agriculture and has worked in agriculture broadcasting for three years at a radio station in Pittsburg, Kansas and also had the opportunity to work for Missouri Farmers Care, the Missouri Soybean Association and the Missouri Pork Producers. After she graduates in May, she will be starting full time with the Missouri Cattlemen's Association as communications director – working with our good friend Mike Deering.
Listen to my interview with Stephanie: NAFB Scholarship winner Stephanie Morgan
2012 NAFB Convention Photo Album