This year the theme of the National Association of Farm Broadcasting convention is "Our Rich Heritage, A Bridge to the Future." Cindy, Jamie and I will be there and you can bet you'll find photos and interviews right here.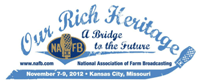 So, let's get started. Mark Oppold, RFD-TV, is the NAFB President-Elect and has worked hard putting this year's convention together, along with the staff and committee members. We visited before heading to Kansas City to provide you with a preview of all that will be taking place. Mark talks about how the theme was arrived at. Like me, Mark has had a number of people in the organization that have had a big impact on his career. So the idea was to have a focus on that heritage while also acknowledging the newcomers who are moving into today's agricultural communications jobs.
Of course, there will be a lot of the traditional convention activities like Trade Talk, various NAFB organizational meetings, the NAFB Foundation auction, professional improvement and entertainment. Get a full rundown on this year's convention in our conversation.
Listen to this week's ZimmCast here: NAFB Convention Preview with Mark Oppold


Thanks to our ZimmCast sponsors, GROWMARK, locally owned, globally strong and Monsanto, Roundup Ready Plus, for their support.
The ZimmCast is the official weekly podcast of AgWired. Subscribe so you can listen when and where you want. Just go to our Subscribe page.