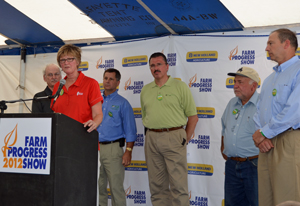 As the Farm Progress Show kicked off in Boone, Iowa, representatives from several of the more than 45 organizations that make up the Farm Bill Now coalition spoke out to urge Congress to finish work on new agricultural policy legislation as soon as possible.
"Agriculture is one of the few bright spots in the American economy," said National Corn Growers Association First Vice President Pam Johnson. "Our farmers continue to be more productive and innovative. But to continue that trend, we need to have some certainty about how we plan our business. And that is exactly what the farm bill does."
Among the diverse representation in the coalition is the Association of Equipment Manufacturers. "We represent 850 equipment manufacturing companies, with 450 of them involved in the agricultural industry," said AEM president Dennis Slater. "Our farmers, our manufacturers, our American workers and families, simply cannot afford to have Congress keep delaying this."
Other speakers for the coalition at the FPS included Ron Heck, board member of the 25×25 Alliance, American Soybean Association president Steve Wellman, Iowa Farm Bureau president Craig Hill and Iowa Farmers Union president Chris Peterson.
Listen to or download comments from all here: Farm Bill Now at FPS
2012 Farm Progress Show Photo Album
AgWired coverage of the 2012 Farm Progress Show is sponsored by New Holland and Monsanto Roundup Ready Plus