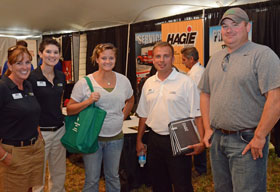 When Mother Nature turns against you, you need all the help you can get. Corn farmers throughout the Midwest are certainly finding that out this year. During the recent Wyffels Hybrids Corn Strategies event at the Harmon Farm in Vincent, Iowa, those in attendance got a lot of information to help them overcome the challenges the drought has thrown at them this season. Jayson Willimack (on the far right in the picture), an Iowa corn farmer, told Chuck during an interview that they rely on the advice they get from their Wyffels rep because it's just too costly not to have the kind of help everyone needs. "We can't just plant corn and grow it anymore. We have to manage every aspect of our business to be successful," adding that he knows he can call his Wyffels person at any time and get real solutions to problems.
This was Willimack's fourth Corn Strategies, and he appreciates the information he's able to get in a low-pressure environment. "Not trying to sell seed… they're just trying to bring value to your operation, and help be a good business partner and help you make good business decisions."
Even with backgrounds doing other jobs, such as working for a large grain company and a bank, and facing the challenges that years like the past two… with too much rain last year and widespread drought this year, Willimack still believes in farming. "I still think farming's the best business to be in. You're still your own boss. It's a great future. We'll have our ups and downs, but in the whole scheme of things, it's a great way of life.
Listen to Chuck's interview with Bill here: Interview with Jayson Willimack, Iowa Corn Farmer