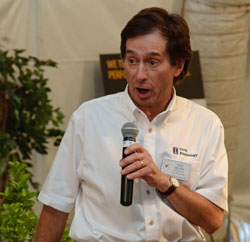 Getting 300 bushels an acre out of corn takes careful planning and doesn't happen by accident. That was the message from Dr. Fred Below of the University of Illinois gave to those attending the Wyffels Hybrids Corn Strategies event in Vincent, Iowa heard this year. "[Farmers] have to select the best hybrids; they have to feed those hybrids with the right nutrients when they need them. They have to follow through and commit to it," Below told Chuck during an interview right before his remarks.
Below admits that years like this one certainly make it more challenging to get those big yields, but good managed crops do help producers get around these challenges. And he said that getting the right hybrid is the most important first step. Below added that the strategy will need to change from feeding the soil to feeding the plant, and farmers will need to make more use of more technologies. "Biotechnology, application technology and fertilizer technology. And we're going to have to marry all those together to try and close the yield gap between the potential that is there and what we are actually achieving."
Don't forget, the Wyffels Hybrids Corn Strategies team is setting up today, July 18th on Nicholas Farms near Litchfield, Illinois.
Listen to Chuck's interview with Fred here: Interview with Dr. Fred Below, University of Illinois