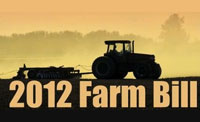 Despite the fact that the legislation impacts every single American, it's still hard not to call it the "Farm Bill," so the draft out of the House Agriculture Committee comes with a clever acronym to let us go ahead and call it that officially. The discussion draft released yesterday by Committee Chairman Frank Lucas (R-OK) and Ranking Member Collin Peterson (D-MN) is called the Federal Agriculture Reform and Risk Management Act or FARRM.
They call FARRM "a bipartisan bill that saves taxpayers billions, reduces the nation's deficit, and repeals outdated policies while reforming, streamlining, and consolidating others…cuts spending, reduces the size of government, and makes common-sense reforms to agricultural policy." The summary highlights the more than $35 billion savings in mandatory funding, the repeal or consolidation of more than 100 programs, and elimination of direct payments. The bill also includes cuts in the Supplemental Nutrition Assistance Program (SNAP) of $16 billion and "provides regulatory relief" for farmers and ranchers.
Agricultural interests are still working on dissecting what is in the 557 page bill. "Our board is assessing similarities and differences between the legislation and our grower-developed policy," said National Corn Growers Association President Garry Niemeyer.
Couple of good analyses of the bill are up – one by Willie Vogt and one on Agri-Pulse by Sarah Gonzalez.
The House Ag Committee has scheduled mark-up of the bill to begin July 11.