Most groups are saying very nice things about passage of the Senate Agriculture Reform, Food, and Jobs Act of 2012 and especially the quick work done by the Senate on the legislation.
"The bipartisan farm bill approved today by the Senate (S.3240) provides farmers improved risk management tools consistent with Farm Bureau's core principles," said American Farm Bureau Federation president Bob Stallman.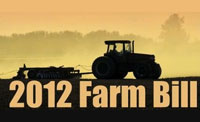 "America's farmers greatly appreciate the leadership and cooperative work by the Senate to pass the 2012 farm bill in a timely manner," National Corn Growers Association President Garry Niemeyer said. "We would also like to thank Senators Stabenow and Roberts for their bipartisan efforts throughout the process."
However, since the bill passed by a vote of 64 to 35, there are at least 35 people who are not real happy with the bill, most of them are southerners and Republicans, like Saxby Chambliss of Georgia. "This bill still lacks the regional balance I have advocated for the past several months," Chambliss said after voting against it. He and others hope that southerners will get a better deal on the House side. One amendment passed that was especially disconcerting to southern states limits marketing loan gains to $75,000.
Of the 73 amendments that were considered by the Senate, about 45 were approved, including a couple on non-germane issues like political convention funding. The Senate rejected two dueling amendments that required 60 vote margins pertaining to EPA aerial flyovers of farm operations.
As the action now moves to the House, committee markup has been scheduled for July 11. If the House can replicate what the Senate did – getting a bill out of committee in 4 ½ hours and get 73 amendments tackled in 2 ½ days – there is still a possibility that a bill could be passed before the current bill expires at the end of September. Anyone want to wager on it?