The Alliance for Potato Research and Education (APRE) is pleased to announce the launch of its new website. APRE, a not-for-profit research and education organization established one year ago today, is 100% dedicated to expanding and translating research into science-based policy and education initiatives on the role of all forms of the potato – a nutritious vegetable – in a well-balanced diet.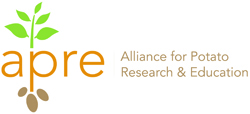 The APRE website is designed as the go-to online resource for all nutrition science related to the potato.
Visitors will have access to a wealth of regularly updated news and information on the site, including original scientific briefs, a video library featuring potato nutrition advice from registered dietitians, and comprehensive industry and government links. Other features include ongoing updates about APRE's partnerships with USDA's MyPlate and the American Academy of Nutrition and Dietetics' Kids Eat Right program, a full calendar of scientific and professional conferences, meetings, and more.